Awards
BEST BANK AWARD:
Our bank has been awarded "THE BEST CO-OPERATIVE BANK" for the years 2003-04 and 2004-05.
The Chief Executive Officer and the Chairman of the bank are awarded the Best Chief Executive Officer" and "The Best Chairman" for the year 2005-06.
During the CENTENARY YEAR CELEBRATIONS OF THE CO-OPERATIVE MOVEMENT IN KARNATAKA held at Mysore on 28th July 2007, our bank was awarded "THE BEST CO-OPERATIVE BANK" BY THE GOVERNMENT OF KARNATAKA.
CASH AWARDS TO MERIT STUDENTS AND FALICITATION TO AWARDEES :-
The bank is felicitating the members of the bank for their exemplary and outstanding achievements in various fields from culture, academics, sports, social service and professionals, since 1993. So far the bank has sanctioned cash awards to 1100 merit students, who are children of our Members and facilitated 151 Members for their achievement in various fields.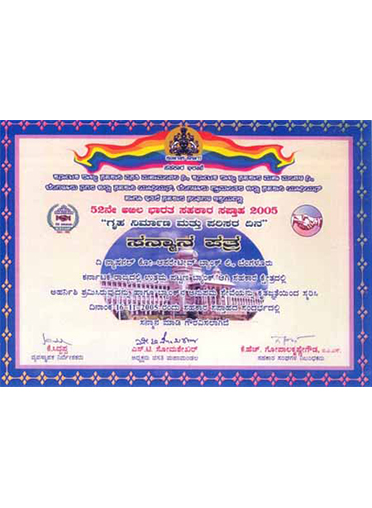 Best Bank Award Received on 16-11-2005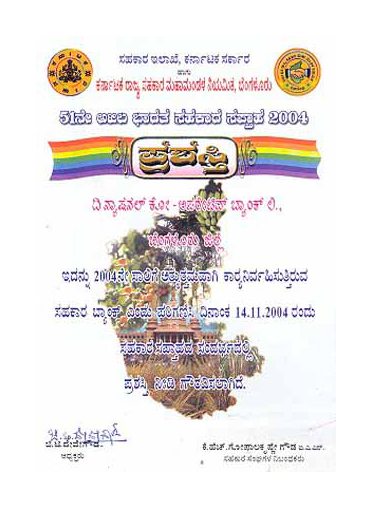 Best Bank Award Received on 14-11-2004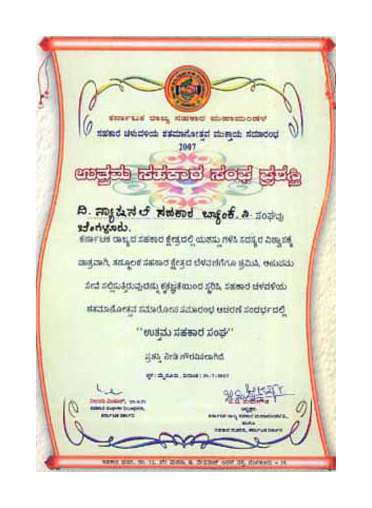 Best Bank Certificate Received during Centenary Celebrations held at Mysore on 28-07-2007
Award received during Centenary celebrations on 28-07-2007
ACHIEVEMENTS:
Our Electronic City Branch was inaugurated at KudluGate on 06-03-2011 by the Hon. Literateur, Lexicographer, Nadoja Prof.G.Venkatasubbaiah
The Implementation of Core Banking Solution was Inaugurated on the same day by the Joint Registrar, Karnataka Co-operative Societies Department.
The function was presided by DGM, Reserve Bank of India, Urban Banks Department, Sri.B. Shivananjappa